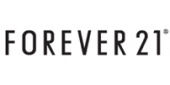 Forever 21
Forever 21 is one of the world's largest fashion houses and the fifth largest specialized retailer in the United States. Their main target group is girls in their 20s and they belong to the fast-fashion category, which means they constantly offer updated fashion at great prices.
Find 1.119 Forever 21 products from 2 shops on SALE at Fashiola.in.
Get up to 50% off on Forever 21 products!