Finding the perfect colour combinations in fashion can be a challenge. The internal struggle is real and can sometimes feel like there is an endless list of rules you must follow.
"Do these colours look good together? Wait what was that rule about wearing white?"
It's never fun to always be thinking about which colour combinations look like best and which should be avoided, and with all the different fashion experts making new rules and combinations it's hard to keep up. That is why I choose to give you the down-low on everything colour-related and show you show you can use colour combinations to your advantage to create looks that kill. 
Best Outfit Colour Combinations
Pink Colour Combination
Nothing says warmth and happiness like pink. Soft pink is subtle yet classy and offers an eye-catching pop of colour to any look. The best thing about pink is that it comes in a wide range of hues from baby pink to electric pink and everywhere in between. These colours are all very different but style great with the same colour palette.
The best pink colour combination is:
Pink and gray
Pink and white
Pink and blue
Style blue jeans with a pink top for a put-together look, or swap out the jeans for gray palazzo pants and add a white cardigan. No matter the combination the colours will work perfectly.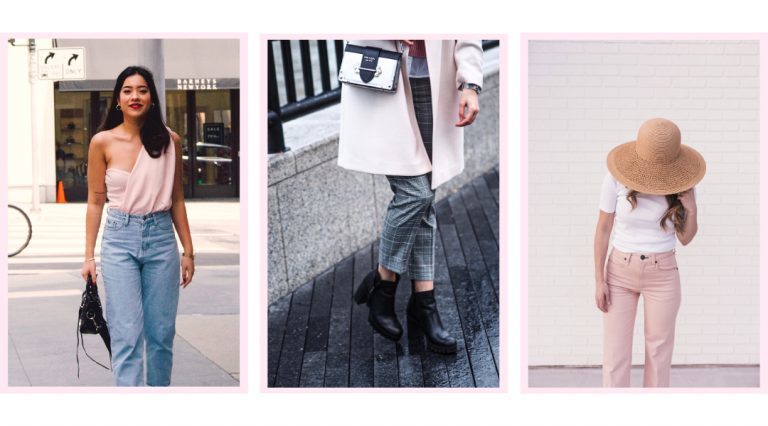 Red and Blue Combination 
Sometimes it's the unlikely colour combinations that work together the best - and this happens to be the case with a red and blue combination. This is an unexpected combination with two vibrant colour hues that make each other pop. Be playful with your pairing of these two colours, it really is a statement combination that you can have a lot of fun with. 
The best red and blue colour combination is:
Red and Blue 
Red and Blue with brown accents 
If you want to be safe pair a red top with blue jeans. but if you want to be daring pair a blue top with a red pantsuit. 
Blue and Orange Colour Combination 
Blue and orange together to create stunning and unique looks, who would have thought! Blue and orange are both relaxing hues that work together like a dream. They accent each other perfectly and both can be worn as a top or a bottom color depending on how you style it. 
The best blue and orange colour combination is:
Blue and orange complete look 
Sometimes we get stuck in our usual ways of always wearing dark-colored pants or blue jeans but with this colour combination, you are able to easily end this routine. Style a blue jean jacket and a burnt orange colour skirt together for a fall-inspired look that looks effortlessly chic. 
Maroon Colour Combination
Maroon is a dark shade that is easily ignored by most people who are more likely to opt for a forest green, navy blue or black. As a result, maroon doesn't get the love it deserves and sometimes people have a difficult time combining it with other colours. However, maroon is a dark colour that can go with almost anything, which is one of the reasons we love it so much.
Best maroon colour combination:
Maroon and black
Maroon and gray 
Styling maroon with a subtle colour like gray - think gray wide-legged pants-  is great for making the colour pop. It is such a dark, rich hue that styling it with any lighter colour really makes it look so much more vibrant. While styling it with black is the perfect alternative to escaping the safety net of always wearing black on black. 
Peach Colour Combination 
Peach is a colour that is not produced as much as yellows and oranges so when you see it and have to style it, it can be quite difficult. Despite the troubles styling it, peach is a beautiful colour that makes the person wearing it look more radiant and alive. If you are looking for a new and trendy colour to add to your wardrobe consider choosing peach.
Best peach colour combination:
Peach and green
Peach and blue
Much like orange and blue, peach and blue is a great color combination. Another great option is light green or army green for example worn as a bomber jacket. 
Violet Colour Combination 
Violet is one of those colours you don't realize you love until you see it on someone else. It has almost a fairytale-like feel to it, and since it's not often worn, you will get plenty of compliments when you do! Don't shy away from this stunning colour, welcome it and all its styling possibilities. 
Best violet colour combinations:
Violet and tan
Violet and white
Violet and blue 
Violet goes well with any other neutral colour. Especially whites, tans, and light blues. You can never go wrong with a violet-coloured outfit and white sneakers. 
Now that you know how to combine different colours in unique ways it is time to branch out and add some new colours to your wardrobe. 
Use this guide for colour combinations as a guide to help you find some new looks and add some personality to your style this year. 
Love Samantha