Short girls rejoice because I'm giving away my best tips and tricks! I know it's quite hard as a petite to find clothes that fit well, as not any shop or brand has a special petite line or takes petite measurements into account while designing. So when you're going to the stores or you're searching for the best clothing sites to buy fashion that fits, it's important to know where to go or where to look.
Once you've found jeans, pants, jackets, tops or dresses for short girls that fit you (sort of), it's crucial to know how to style them. What would make you appear taller, what are absolute no-go's?
You do not have to worry anymore, because today I'm sharing with you my tips and tricks on how to dress, petite style.
Get prepared for all the top tips and tricks for short girl fashion!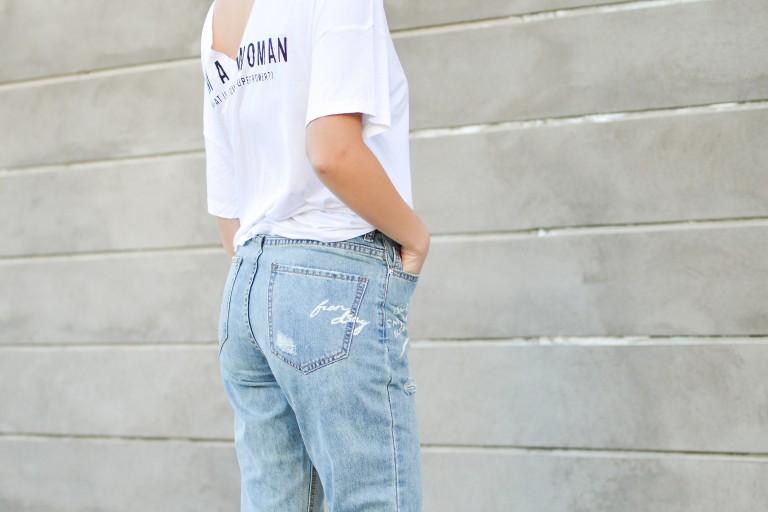 How to find well-fitting clothes for
short girls

Find brands & shops or ones that offer petite lines for short girls
It's true, finding special petite brands, shops or some that offer petite lines is difficult. There aren't many around, and once you find something, it might be too expensive or it doesn't fit your style. Still, it's worth it to have a look around, and perhaps during sale time to invest in some basic key pieces like a well-fitting cardigan, pair of pants with a good cut or a jacket.
With a few wardrobe staples that fit you like a glove, you're already halfway there.
Quick tip! One of the best clothing sites to buy petite fashion from is ASOS; with their dresses for short girls, you're sure to always be ready for a party.
Making it fit
Now, even if you couldn't find a petite brand, shop or line, and you've purchased something off the 'regular cut' line, there are still possibilities for fitting your item to your petite body. One of these it-girls, celebs and movie-stars' biggest secret (not so big anymore) is a... tailor. Yes, it's that simple.
Bring your newly-purchased jacket, jeans or top to your nearest tailor and let them know what your measurements are. In no-time, you've got yourself a well-fitting piece, for just a little extra investment! This is the easiest way to make an ill-fitting garment fit you perfectly. 
Styling it right
So, you've either found a great piece at a petite store, brand or line, or you've found an item and had it fitted to your measurements. What now? The key to your perfect look is the styling.
A. Casual outfit
One of my favorite pieces of clothing and an absolute must-have in every woman's wardrobe is a pair of well-fitting jeans. They can be skinny, straight or flared, according to your personal style. Personally I'm a huge skinny jeans fan, simply because they give the illusion of skinnier and longer legs. I'm usually an all-black-all-day-every-day kind of girl, so I'd go for a basic black skinny, and have it fitted by a tailor.
In addition to his, I'd choose a cute top! In this situation, a see-through mesh top is the perfect choice as a casual shirt with just a bit of flair to it. Add a singlet underneath to cover up, a pair of ankle booties and a handbag to complete your look.
B. Night out look
For a dressed-up look, find maxi dresses for short girls. Maxi dresses give an illusion .. one that all us short girls need .. and that is the illusion of length. So any time I can, I choose a flowy, maxi dress that just makes me appear taller than I am (hallelujah!) Having found one and altered so that you don't trip over it makes step 1 complete. Now, a pair of heels in the same shade as your dress is just as important - it creates a whole. Add a minimalist necklace and a clutch - and you're ready to party!
It's true - finding shops or the best clothing sites to discover petite clothing is hard, and knowing how to style them right once you've found them might be even more challenging. I hope that these tips and tricks for short girls will help you find a few pearls in the sea of oversized and ill-fitting clothes. Good luck!
Love Gal