Working in an office and remaining fashion-forward can be a challenge for most working women. It can be hard to find the motivation to get dressed up every day and find a stylish yet comfortable outfit to wear, especially when looking for winter office wear. During this season wrapping too many layers over a sari can get bulky which is why most office wear has indo-western or completely western tones. 
Luckily, all the office wear trends are perfect for the semi-casual work dress culture in India. Which is the perfect balance of formal elegance and comfortable casual.
Let's get inspired by all the amazing winter office wear pieces that are perfect to mix into your wardrobe for a fashion-forward working season.  
The Best Winter Office Wear for Women
Bold Blazers
Blazers are the ultimate women's office wear trend for the winter. They are the ideal jacket choice that can dress up a casual outfit to be formal or make an already formal outfit even more sophisticated. Style a women's blazer with a pair of high waisted jeans and a white t-shirt for a casual and comfortable look with a sleek and trendy edge. Or style it with a pencil skirt for the ultimate women boss outfit. 
The best thing about blazers is that they come in so many different colors, styles, shapes, and patterns and can be worn in a ton of different ways. This is an outfit piece that will get you through more than one long day at work in the winter. 
Dark Turtle Necks 
A turtle neck shirt is a great way to stay warm in the winter, while still being stylish. And who doesn't love having comfort and style all in one clothing piece? During the cold season opt for a dark color as this is more seasonally appropriate. 
Turtlenecks are fantastic because they can be worn with so many different looks and the high neckline pulls everything together in a classy way. Pair it with some chic palazzos and a sweater for a high fashion look. You can also layer turtlenecks with a variety of different items in your wardrobe! It is a very versatile piece of clothing that will transform almost any look. 
Button-Front Midi Skirt
Button-front midi skirts are a great option for work as a comfortable yet cute clothing option. This skirt is different than the classic pencil skirt and adds a unique flair to your look. What's also great is that it can easily be transitioned between seasons. During the winter you can wear it with a pair of black leggings and a jacket, and in summer you can remove the leggings and just wear it alone with a classic t-shirt! It's a win-win wardrobe piece. 
Plaid Trousers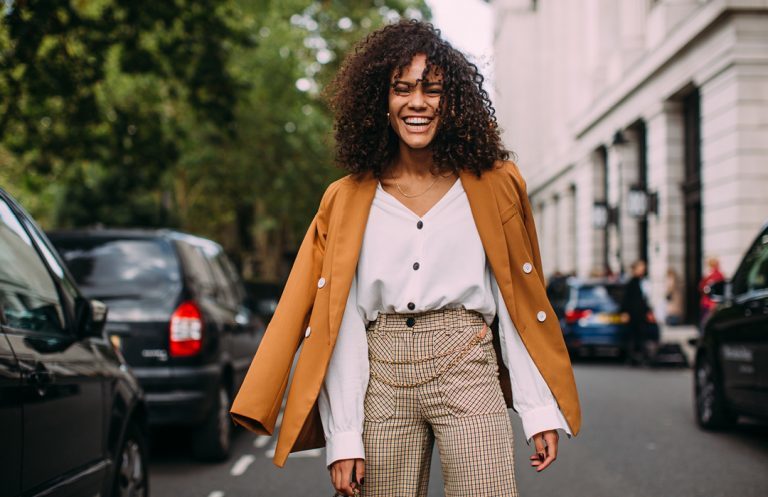 Plaid trousers are one of the hottest trends of the season and the best part is that they are workplace appropriate! Style them with a trendy blazer and heels for a chic and classy look everyone at the office will be jealous of. 

Don't be afraid to wear patterns or colors at work. Clothing is a great way to express yourself and show some personality. The addition of colors is a great way to add some fun to your daily work routines! Plaid pants aren't the wildest pattern but they are a great place to start if you want to branch out from your regular black pants. 
Camel Jackets
Most of us have a wardrobe full of black items because they are safe and go with anything, but this can get a little bit boring. It is time to add some color to your life by wearing a camel-colored jacket during the chilly winter season. Camel is a great color because it is classy and it also goes with anything, but it is a more friendly and light color than black is. 
It is time to brighten up your winter wardrobe with this jacket. Be sure to style it with a pair of boots for a fashion week look. 
Warm Jumper 
In the winter when the weather gets colder, having a stylish and warm jumper is a must. Jumpers are great on their own and for layering, because you never know how cold or warm the office will be. This is a staple clothing item that will get you through quite a few cold days winter days.
And what's great is that this is one of the most comfortable pieces of clothing there is. If you choose the right material it can almost be like you are wearing a blanket at work. 
Wide Leg Trousers
Having a few nice, flowy trousers for winter is a good idea. You can never go wrong with wide-leg trousers for work because they have the formal look without the formal feel. Meaning you can sit in them for hours at work without feeling too tight and restricted, it is the perfect alternative! 

Plus they are very fashion-forward and can easily transition into other seasons. Due to their flowy design, they can be worn in warmer temperatures as well, and we love this style of pants in the summer with heels and a tank top! 
It is time to make a fashion statement at work by wearing some of the winter office wear items listed above. No more thinking work is something to dread, but to wake up excited to show off your new clothing to your coworkers! Also, who knows, you may run into some important people and making a good impression with your clothing can make all the difference. 

Let's make winter our runway! 
Love Samantha